Marina d'Erba Rossa
WELLNESS AREA AND SPA
Switch off and enjoy a moment's peace and relaxation. Prepare to be pampered the moment you step through the door. Sauna, spa, massages, beauty treatments… Our fully-trained team will be at your disposal! The best holidays always include some me-time!
A WELLNESS AND RELAXATION CENTRE WITH SPA
Set in idyllic surroundings perfect for that dream holiday, the Marina d'Erba Rossa campsite is the perfect spot for some pampering. Get away from it all in our soothing wellness and relaxation centre.
With friends or as a couple, unwind in one of our 2 whirlpools (for a fee). And when you really want to switch off, treat yourself to a massage from our trained masseuses or a treatment from our professional beauticians. Massages, reflexology, body treatments, body contouring: so much to choose from!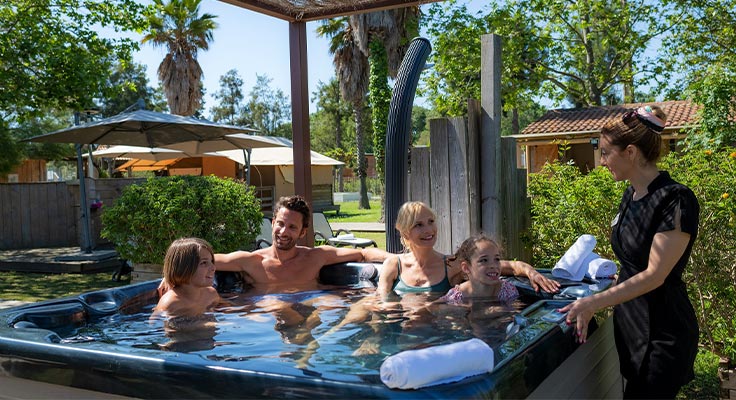 PREFERENTIAL RATES ON WELLNESS PACKAGES
As soon as you arrive at Marina d'Erba Rossa, remember to book your wellness sessions. Alone or as a couple, it's time to unwind and relax.
To make your holiday even better, we offer preferential rates. Sessions and treatments can be booked directly at the campsite's wellness centre, which is open from April to the end of September. Guaranteed me-time for even more memorable holiday!
Zen Package (3 x 45 min Californian massages during the stay): €162 if purchased when booking (€180 if reserved on-site)
Toning Package (3 x 45 min Swedish massages during the stay): €175 if purchased when booking (€195 if reserved on-site)
Duo package: Jacuzzi (30 min), Californian massage (25 min) and sauna (20 min) for two. 2 times during 7 days: €206 if purchased when booking (€256 if reserved on-site)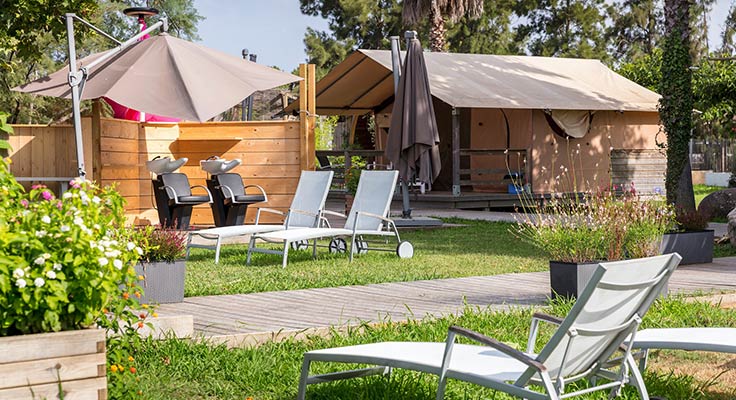 MASSAGE PRICES
Swedish massage: €45 (25 min) / €80 (60 min) (toning)
Kid's massage (30 min): €40 (helps physical well-being, breathing, sleep)
Foot reflexology (60 min): €70 (stimulates nerve endings)
Signature massage: €55 (35 min) / €90 (60 min) (personalised, relaxing and envelopping)
Shell massage (60 min): €80 (with warm shells rather than stones)
Anti-cellulite massage (40 min): €60
Californian massage: €35 (25 min) / €75 (60 min) (unwind and relax)
Scalp and face massage (30 min): €40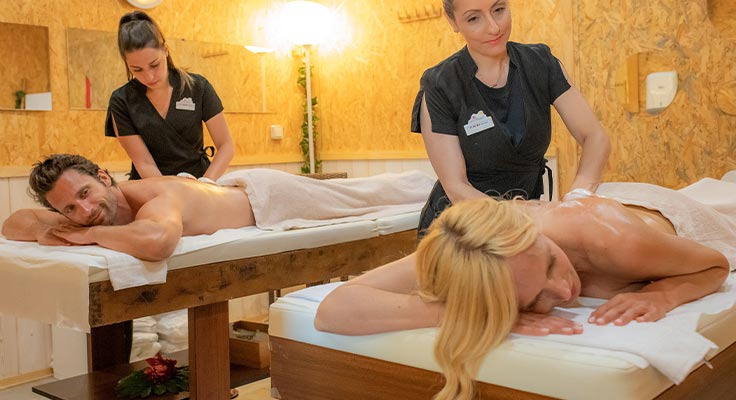 CHECK OUT THE SERVICES AVAILABLE AT THE MARINA D'EBRA ROSSA CAMPSITE